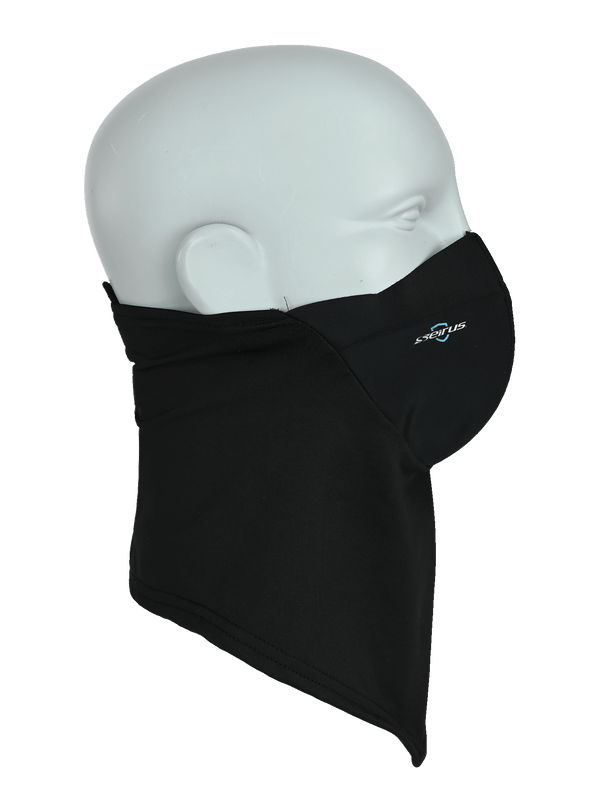 • Contoured Anti-Microbial Mask with Flexible Central Arc
• HeiQ® Anti-Microbial / Anti-Bacterial Technology - Effective In Minutes*
• Arc Shape & Contoured Fit Naturally Creates Free-Breathing / Talking Pocket
• Breathable, Washable 2-Layer Fabric - Stretch Outer, Wicking Mesh Inner
• Warm, plush, hollow-core Dynamax™ scarf with integrated SHIELD Arc Masque™
• Wicking • Wind-blocking • 4-way stretch
• Seals with goggles
• Adjustable Velcro closure
• UPF 50+ rating
• Wash & Reuse for life of product

The SHIELD Arc Dynamax™ Dana is the next level of defense for social distancing. We've taken our warm, plush, hollow-core Dynamax™ scarf and integrated it with the SHIELD Arc Masque™. Thin, lightweight, and wind blocking, this Dana is perfect for winter activities. And with masks now a part of the CDC's suggested practices for slowing the spread of viral outbreaks, this is the perfect fit. With the HeiQ® Anti-Microbial technology, this dana provides antimicrobial protection inside and out. HeiQ® is EPA registered and provides hypoallergenic, odor-free products you can reuse with confidence. The SHIELD Arc Dynamax™ Dana uses modern materials to provide unbelievable face and neck protection in a thin, lightweight, wind-blocking piece. The flexible arc creates a free-breathing, talking pocket while still sealing comfortably with goggles. With Dynamax™, the feel is unreal.
You can learn more about the full SHIELD line here.

*Neither HeiQ's worldwide anti-viral approvals nor this product have been approved by the FDA. Product not guaranteed to prevent infection.

Antimicrobial efficacy demonstrated on HeiQ's fabrics. Efficacy may vary depending on fiber type, application dosage of the treatment, fabric impurities and application procedure.

Antimicrobial properties built in to protect the product. This product does not protect users or others against human pathogens including bacteria, viruses, germs or other disease organisms. Always clean or wash this product thoroughly after each use.

Care Instructions
See our Care Instructions here!
Size Guide
See our Product Sizing Charts here!
Frequently Asked
Shipping
Can I ship to APO/FPO/International addresses?
At this time Seirus online sales are only available for customers in the continental USA, Hawaii and Alaska. Certain products are available in Canada through Sport Dinaco, you can find them at sportdinaco.com. Prices may vary due to Exchange rates, duties, transport and handling. Please contact customer service to find a Seirus distributor in your country.
When should I expect my order to arrive?
All orders will be shipped within 1-3 business days of placing your order. You will have the option of selecting Overnight, 2-Day or Ground in the shipping options. Orders must be submitted by 10:00am PDT to go out same day. Overnight and 2-Day orders will be prioritized. Overnight shipping will arrive by end of the next week day (Monday through Friday). If you select ground it is an estimated shipping time of 3-5 business days. Actual shipping time may vary based on location, weather and other unforeseen obstacles. Business days are defined as Monday through Friday, 8:00am - 5:00pm PDT, excluding holidays. We are closed on New Year's Day, Martin Luther King Day, Presidents' Day, Memorial Day, Juneteenth, Independence Day, Labor Day, Thanksgiving Day & Christmas Day and will ship orders again beginning the following business day.
Returns
What is the return policy?
We accept returns within 30 days from the shipment date for any purchases made on seirus.com. All returns must be in new condition and have all original packaging and header cards attached. Once the return is received at our facility we will process a refund within 2-3 weeks. The customer is responsible for the freight cost coming back to our facility. We recommend using a carrier that provides a tracking # and insurance. If you purchased the item(s) from one of our authorized dealers, then please contact the dealer directly to process a return.
How do I return my order?
There is a packing slip that shipped with your order which includes instructions for your return. If you have misplaced this, you may download the Seirus Online Return Form to print and send with your item(s).