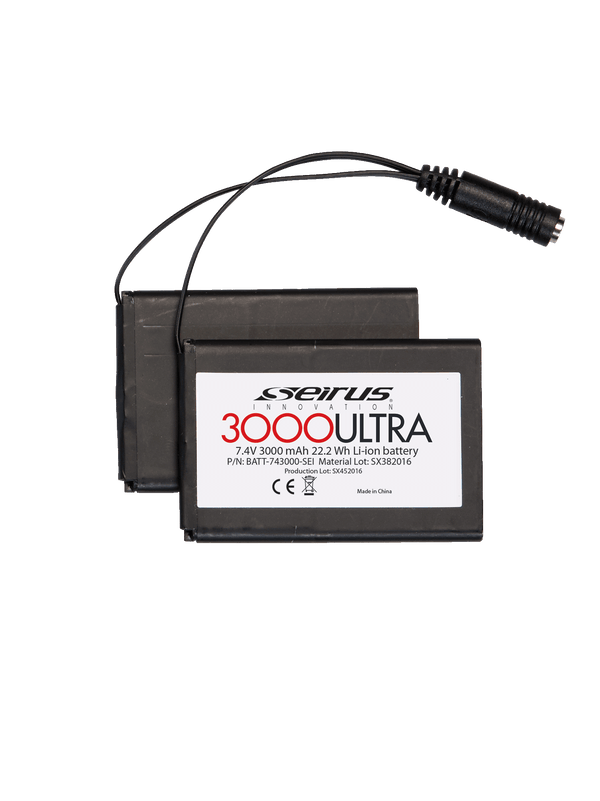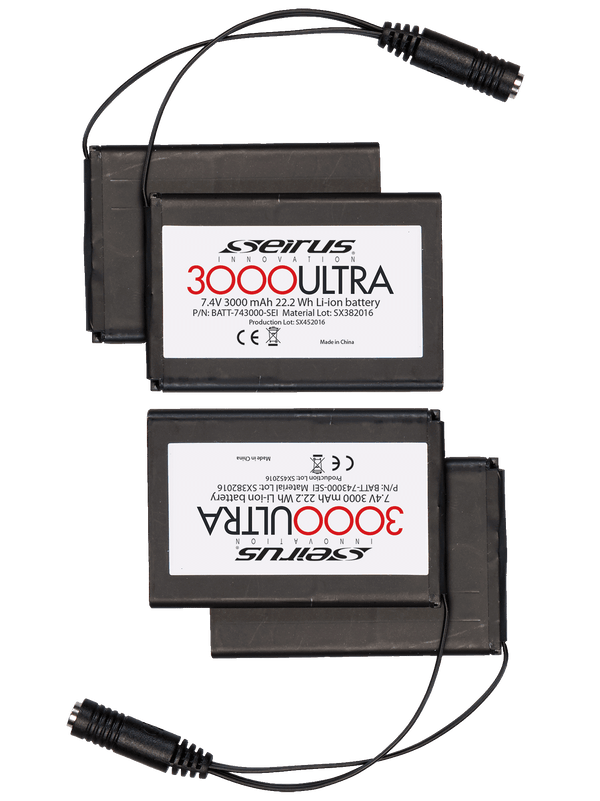 HeatTouch™ Battery 3000 ULTRA
7.4v Lithium/Ion* Single Battery or Battery Pack
Lost one or both of your batteries or just want to back up your gloves with extra power? Get another 3000Ultra battery or extra set to take with your gloves and give yourself up to 12 hours of ultimate warmth! They were designed with the HeatTouch HELLFIRE Gloves/Mitts.
3000Ultra: Lightweight Battery-3 Settings:
Green - Low 12+ hours
Yellow - Medium 8+ hours
Red - High 4+ hours
*These are lithium-ion batteries, please check airline restrictions provided by airlines before traveling
3000ULTRA BATTERIES REQUIRE THE V2 HEATTOUCH CHARGER
V2 chargers are included with every HELLFIRE glove/mitt purchase.
3000Ultra batteries are not compatible with non V2 HeatTouch chargers. You will need one of the new V2 chargers in order to charge 3000Ultra batteries correctly.
3000Ultra batteries are compatible with all of our 3000 and 1500 series HeatTouch gloves. NOTE: They will not work with the HeatTouch Atlas gloves or mitts. They are slightly larger than the 1500 batteries and may fit snuggly or not fit in smaller sizes of non HELLFIRE Glove/Mitt sizes such as Women's Small. For fit info on your non HELLFIRE model, please see Chart below.
Care Instructions
See our Care Instructions here!
Size Guide
See our Product Sizing Charts here!
Frequently Asked
Shipping
Can I ship to APO/FPO/International addresses?
At this time Seirus online sales are only available for customers in the continental USA, Hawaii and Alaska. Certain products are available in Canada through Sport Dinaco, you can find them at sportdinaco.com. Prices may vary due to Exchange rates, duties, transport and handling. Please contact customer service to find a Seirus distributor in your country.
When should I expect my order to arrive?
All orders will be shipped within 1-3 business days of placing your order. You will have the option of selecting Overnight, 2-Day or Ground in the shipping options. Orders must be submitted by 10:00am PDT to go out same day. Overnight and 2-Day orders will be prioritized. Overnight shipping will arrive by end of the next week day (Monday through Friday). If you select ground it is an estimated shipping time of 3-5 business days. Actual shipping time may vary based on location, weather and other unforeseen obstacles. Business days are defined as Monday through Friday, 8:00am - 5:00pm PDT, excluding holidays. We are closed on New Year's Day, Martin Luther King Day, Presidents' Day, Memorial Day, Juneteenth, Independence Day, Labor Day, Thanksgiving Day & Christmas Day and will ship orders again beginning the following business day.
Returns
What is the return policy?
We accept returns within 30 days from the shipment date for any purchases made on seirus.com. All returns must be in new condition and have all original packaging and header cards attached. Once the return is received at our facility we will process a refund within 2-3 weeks. The customer is responsible for the freight cost coming back to our facility. We recommend using a carrier that provides a tracking # and insurance. If you purchased the item(s) from one of our authorized dealers, then please contact the dealer directly to process a return.
How do I return my order?
There is a packing slip that shipped with your order which includes instructions for your return. If you have misplaced this, you may download the Seirus Online Return Form to print and send with your item(s).